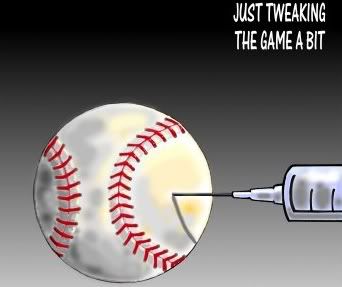 Aww. Baseball is wearing a frown. America's favorite pastime has been put on blast, and we find a league ducking for cover. But not everyone from the diamond is frowning, because I would suspect Barry Bonds is wearing a big smile. He's been the most scrutinized individual of the steroid debate. But look, now he has company.
Come on Bud Selig, let's see you turn you're back on some of these names. Let's see you avoid acknowledging some of these achievements. It's not just about homeruns and Babe Ruth Anymore. It's not about a single man, but about league MVPs, Cy Young Winners, Golden Glovers, the 300 win club, World Series champions, and future Hall of Famers. Hall of fame? Wow! If I could patent the asterisk, I could make a fortune!
Sure, I've heard it all. You can't prove this long list of players actually used the substance, and can only prove possession. Any testimony of actual use comes as hearsay, since none have ever tested positive for performance enhancing drugs, including Barry Bonds. But hearsay was enough to tarnish the image of Bonds. Let's see if other reps will be tarnished or if baseball will look to restore the images of its more "likeable" stars.
Hey Mr. Selig, you're about to earn every dime of your commissioner paycheck. The credibility of your league is in trouble. It's going to take more than league wide "Jackie Robinson" days to cloud these allegations. How about free beer for the first six innings in all ballparks, so we get an illusion of an even playing field in the seventh?