Here's a big shout out to the greatest women in sports. Unlike the criteria used by other media sources, such as Time Magazine or the Associated Press, numbers and statistics will mean nothing here, unless they are in reference to measurements. Some of the women on this list brought more attention to themselves and their sport, based on appearance alone, and not with their performance on the courts, greens, slopes, etc.
Some women may seem to gain an unfair advantage, in their posing for playboy, while others haven't. Birthday suits won't establish any kind of advantage on this list, because the Horse's imagination strips them all nude anyway.
I give you the Horse's top 10 sporting women….
1. Missy Gibson-surfer
The surf isn't the only thing up, when Missy's riding the wave. She won't make Sportscenter highlight reels or win any Espys, but Missy has drawn the attention of photographers worldwide. With beauty and body, this female surfer has been pitching the Roxy label, and leaving her opposite sex to pitch tents.
2. Stacy Kiebler-Wrestler
Long before Stacey was dancing with the stars, she was dancing in my dreams. Though she made a name for herself in female wrestling (mud not included), I can honestly say I've never seen a single match. But I'd gladly go a few rounds, just to see how long it would take to pin her.
3.Danica Patrick- Indy Racer
Has Danica ever won anything, besides my heart? I admire her will to participate in a male dominated sport, and trying to be viewed as "just one of the guys". But I'm sorry Danica, guys don't have **** like those and an *** like that.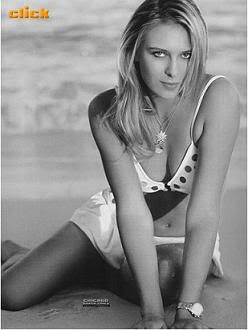 4. Maria Sharapova- Tennis
Little Maria grew up (and out). This former tennis Queen of England has made many forget about Anna Kournakova. Both are Russian. Both are blondes. But unlike Sharipova, Anna was a loser.
5. Heather Mitts- Soccer
I'll admit to watching the women's team USA soccer tournaments, without ever watching the men play. Heather is a big reason for that. I'm not sure which position she plays, but I can think of many positions to put her in.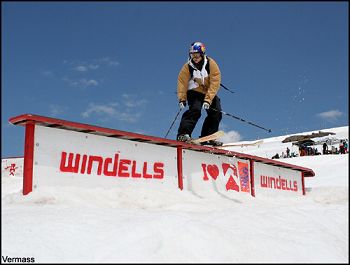 6. Kristi Leskinen- Freestyle skiing
Kristi placed 10th at the 2007 X-Games in the superpipe event. If this snow bunny would have stripped herself of the excess weight of clothing, I'm sure she would have placed higher. She would definitely get my first place vote.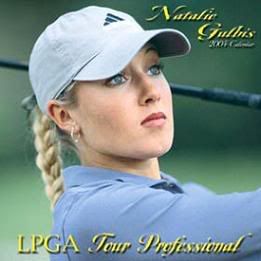 7. Natalie Gulbis- Golf
Even with some newcomers arriving on the LPGA tour, Natalie still appears as the hottest babe on the greens. She allowed the good Christian boy, Ben Rothlisberger, to play a few holes, so I doubt someone as devilish as myself would stand a chance.
8. Sasha Cohen- Figure Skater
Sasha is a skater that eventually gained a figure. At one time, I felt her head was too large for her body, but over the years, her frame has caught up. There are so many women to choose from in figure skating, but I've honored Sasha on this list.
9. Amanda Beard- Swimmer
Many people would choose Amanda for the top spot, because of that unfair Playboy advantage. If I eliminate those visions and leave an even playing field, I find her worthy of number 9. I hold a firm belief that Missy Gibson's playboy spread would put Amanda's to shame.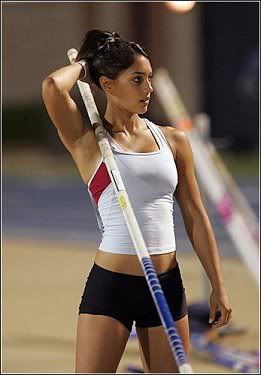 10. Allison Stokke- Pole Vault
Allison set a California freshman High School pole vaulting record. Since then, she's taken her gift, and gifts, to the University of California Berkeley. I'll admit, she looks a lot better in competition than she does off the track. Socially, she blends in with some other everyday hotties. But on the track, those compression shorts have me focused on how she grips and rises with that pole.
I narrowed my list down to these 10, and I'm sure your own personal preferences would rearrange the order, eliminate, and add others. But of course, I don't care. My list. My girls.
I submit my apologies to N.O.W and any other feminist groups that will be offended by my use of the female body as eye candy. I just ask that if you choose to picket my home, at least wear short skirts.
Oh, and a note to PETA, no beavers were harmed during the publication of this article, so stay off my a$$.