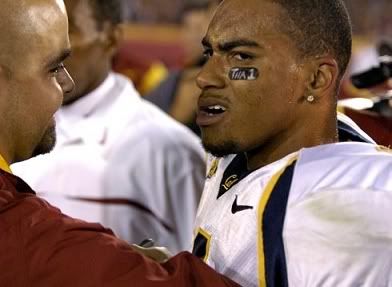 It's no big secret that I'm not a fan of Cal wide receiver [B]Desean Jackson[/B]. Not that it's always been that way, because when he was still in the process of choosing a school, I found myself hoping and praying he would pick USC. As time rolled on, and I gave it more thought, I felt he was a lock. He's a kid from Long Beach, and his fellow alum often went on to clad themselves in the cardinal and gold. In my mind, I already had him on the Trojan Roster, but then the unthinkable happened. On national signing day, D snubbed USC and picked Cal instead. Cal? Are you serious? I would have rather he picked UCLA, instead of this newly hated enemy from the north. But I dealt with it, understood his decision to not play behind a Dwayne Jarrett and Steve Smith, and left it at that.

But "the mouth" continued to resurface, and it should have been expected. After all, a nationwide audience received their first glimpse of his arrogance in the Army high school all American game, where he embarrassed himself with a showboat, attempting to do a flip, for no apparent reason, and coming up HALF A YARD short of the end zone.
And it didn't end there, because he continued to embarrass himself in front of Southern Cal fans, by appearing in the media or having his words in print, talking about the great performance he would have against USC. Those great performances never came. Last year, he entered the coliseum, jabbing and jawing, and felt it necessary to get into a screaming match with Trojan fans, before actually making a play on the field. That would have been the Desean Jackson memory of that game, if Cal was able to hang on to a halftime lead and actually win. But they didn't, and the lasting memory became Jackson being laid out by Trojan, [B]Kevin Ellison,[/B] and the Bears eventually falling to defeat. I've since come to refer to this play as the "foot in mouth" hit.

Year three of the Jackson "No-Show" is now complete. Three years without seeing the end zone against the Trojans. Three years of lowlights and embarrassment. Three years later, and this early season Heisman favorite, dubbed by the media as "the most electrifying player in college football," now sits silent, failing to make the All Pac 10 first team offense. Is it "electrifying" or shocking? No. Maybe it's just karma.
I'm not hearing much from a guy named Jackson out of Berkeley these days.
Silence is Golden.